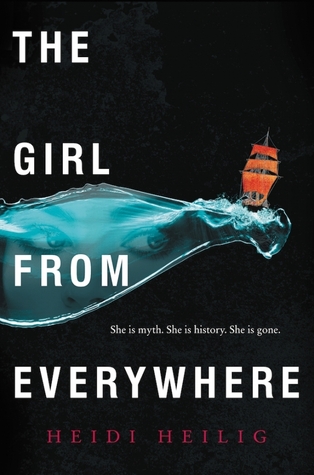 Nix has spent her entire life aboard her father's ship, sailing across the centuries, across the world, across myth and imagination.

As long as her father has a map for it, he can sail to any time, any place, real or imagined: nineteenth-century China, the land from One Thousand and One Nights, a mythic version of Africa. Along the way they have found crewmates and friends, and even a disarming thief who could come to mean much more to Nix.

But the end to it all looms closer every day.

Her father is obsessed with obtaining the one map, 1868 Honolulu, that could take him back to his lost love, Nix's mother. Even though getting it—and going there—could erase Nix's very existence.

For the first time, Nix is entering unknown waters.

She could find herself, find her family, find her own fantastical ability, her own epic love.

Or she could disappear.

Source: GoodReads
I think one of the things I hate the most is reading a book you were really excited for and being disappointed with.  Such was the case with The Girl From Everywhere.  I had this book on my shelf for awhile and delayed it because the reviews were mixed.
And boo, I fall in with the critical crowd which always sucks.  I couldn't even finish the book because I got so bored with it.  It wasn't necessary bad per say, but for what it was supposed to be it was boring and I sort of knew where it was headed.
The world building was also sort of illy explained which is a shame because there was a lot of potential with this book.  Time travel.  Dimension traveling.  That should be such an MJ book, but in the end it wasn't my book.
The main character, Nix, is sort of boring.  I feel like she should've felt more desperation than she did.  Her relationship with her father is just odd.  She sort of has this friendship with the potential love interest that is sort of interesting but it didn't hold my attention long enough to continue.
It was a box full of mehs.
Which is never a good thing especially with a book described to be full of adventure.
I also feel like the scenes that take place in these different worlds are never really explained in much detail.  If you're going to do multiple worlds, describe them.  I want to experience that mother fucking world just describing a stupid dress in the Victorian era that you're visiting isn't going to have me experience said world.  Though, dress descriptions are important (I guess).
And like I said, you never really get a sense of how this time and world building works.  Yes, there's the thing with maps but other than getting the maps I'm still a little flummoxed on how it works.  Maybe if I could've stayed the course and finished the thing I would know, but again I just couldn't.
A part of me feels bad about closing 2016 on such a disappointment but honestly my feelings for the book sort of sum up the year.  There were great opportunities and they were missed.  Yes, there were a few good things that happened but on an overhaul.  Not thanks.
Overall Rating: DNF