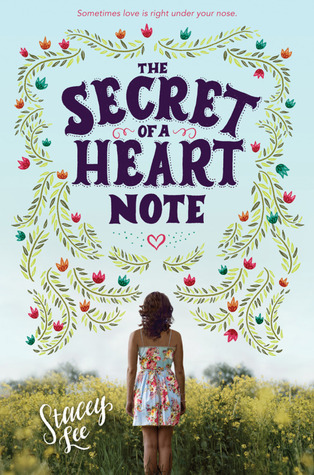 An evocative novel about a teen aroma expert who uses her extrasensitive sense of smell to mix perfumes that help others fall in love while protecting her own heart at all costs

Sometimes love is right under your nose. As one of only two aromateurs left on the planet, sixteen-year-old Mimosa knows what her future holds: a lifetime of weeding, mixing love elixirs, and matchmaking—all while remaining incurably alone. For Mim, the rules are clear: falling in love would render her nose useless, taking away her one great talent. Still, Mimosa doesn't want to spend her life elbow-deep in soil and begonias. She dreams of a normal high school experience with friends, sports practices, debate club, and even a boyfriend. But when she accidentally gives an elixir to the wrong woman and has to rely on the lovesick woman's son, the school soccer star, to help fix the situation, Mim quickly begins to realize that falling in love isn't always a choice you can make.

At once hopeful, funny, and romantic, Stacey Lee's The Secret of a Heart Note is a richly evocative coming-of-age story that gives a fresh perspective on falling in love and finding one's place in the world.

Source: GoodReads
This book was the perfect way to start off my 2017 reading list.  It wasn't a perfect book mind you, but it was a nice book to read on a quiet New Year's Day and I really enjoyed it.  Though, I'll be honest I don't think it will probably be a very memorable read in the long run.
Prior to this book, I had only read one Stacey Lee book and I wasn't exactly a fan.  I think in a lot of ways because it relied so heavily on dialect and I'm not a big fan of dialect.
This book though didn't use dialect and I thought it had a very interesting concept with it's aroma witches.  Honestly, when I was reading it I thought this would be a pretty good Hallmark movie.  And I could see it being made as one, save for the fact that the protagonist is a teen and Hallmark protagonists are like constantly 30 somethings but whatever.
But it had that same sleepy, lighthearted quality about it that made it enjoyable.  The protagonist is likable-though not that memorable-and her relationship with the love interest was also cute.  I also liked the world building was with this one.
Save for the aroma magic stuff, it could very much be a contemporary.  There were plenty of subplots that were contemporary based-the falling out with relatives, Mim and her mother's relationship, the romance.  But the way that magic incorporated the book wasn't annoying either.
I think one of the reasons why The Secret of a Heart Note worked for me was that the paranormal elements weren't so do or die like they are in a lot of young adult novels.  It was refreshing to read how out of the world elements could be wrapped up into every day life.
Were there some things about this book that I didn't like.
Well, yeah.
I did think the ending seemed a little rushed with how some of the familiar relationships were resolved and I wasn't exactly a fan of how the magic situation was resolved either.  Though to be honest, on the whole magic subplot concerning Mim's nose I sort of falter back and forth about the conclusion of it.  At times I got annoyed because it was an easy fix to what seemed like a huge problem.  But on the other hand, I sort of liked that the problem wasn't near as catastrophic as it was described to be.
I think if you want something on the lighter side you should give this one a try.  I enjoyed it, though releasing it in winter might've been a mistake on the publisher's plot.  The book really reads spring to me.  Still, as my first 2017 read I can't complain (that much).
Overall Rating: A B+