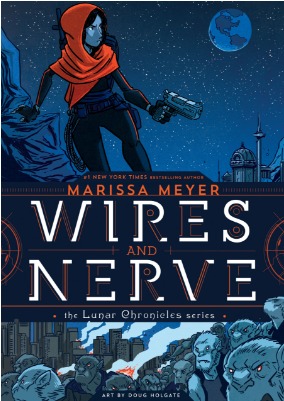 In her first graphic novel, #1 New York Times and USA Today bestseller Marissa Meyer follows Iko, the beloved android from the Lunar Chronicles, on a dangerous and romantic new adventure — with a little help from Cinder and the Lunar team.

In her first graphic novel, bestselling author Marissa Meyer extends the world of the Lunar Chronicles with a brand-new, action-packed story about Iko, the android with a heart of (mechanized) gold. When rogue packs of wolf-hybrid soldiers threaten the tenuous peace alliance between Earth and Luna, Iko takes it upon herself to hunt down the soldiers' leader. She is soon working with a handsome royal guard who forces her to question everything she knows about love, loyalty, and her own humanity. With appearances by Cinder and the rest of the Rampion crew, this is a must-have for fans of the bestselling series.

Source: GoodReads
While I love the original Lunar Chronicle series (though the last book didn't quite lead up to the expectations I had), I have been weary of its various bonus installments.  The short story series (save for that epilogue) was a bit of an obvious attempt to cash out.  The coloring book-well, all popular YA series are getting one.  And I waited for the spinoff to happen.  Because spinoffs always happened and then Marissa Meyer announced a graphic novel and I inwardly groaned since I have not been a fan of graphic novel YA adaptations in the past.
Only thing is though…this YA graphic novel actually works.
In part because it is new story.  While it doesn't take place after the epilogue of the series, or even the epilogue of Winter it does take place between the end of the action and epilogue in Winter.  And its location surprisingly works.
I think a lot fit is because the main focus is on Iko who is the best character in the series.
Yes, I said BEST.
And yes, I know Iko was only a side character in the actual series but I love her.  She was great comic relief at the beginning of the series but grew over time as the books progressed and I'm so glad she's now getting some narration of her own.
I oddly ship the ship in this too, even though I'm not exactly sure how things between those two would work.  But hey, it worked between Vision and the Scarlet Witch-well, for awhile at least.  So…it could work.  Maybe?
I am not going to think about that though for now.  Instead, I am going to focus on what a fun and quick read this was-I think it took like forty-five minutes tops.  It went by that fast.
One problem I did have was the artwork.  It really was quite hideous to me, at least.  I know that beauty is in the eye of the beholder but a lot of the characters looked the same to me.  Especially the male characters.  And the wolf hybrid characters were just hideous.
I'm sorry, Holgate, I know your art work might be liked by others but it wasn't my thing.  Beauty of the beholder and all.  But you did an okay job on Iko and the cover was quite nice if that's any consolation….
Overall though, I really liked this graphic novel.  I might've not have been a huge fan of the art.  But….the story made up for it.  But at the same time, I'm like it is supposed to be a graphic novel so I just don't know.
Overall Rating: A B+ I'll definitely be picking up the sequel. Meyer did her part.  I just…the art work is a big fat no.