Occasionally, I like to binge read series.  I find when a series has already been published it's just easier for me to go through the motions of reading the whole thing rather than pacing it out-though I have done that in the past as well.
The Hundred Oakes series is a contemporary series by Miranda Kenneally that's been out for awhile.  I actually reviewed the latest and sixth book (Jesse's Girl) a while back.  I liked it.  However, I wonder had I actually read the series in chronological order if I would've continued it…
ONE OF THE BOYS

What girl doesn't want to be surrounded by gorgeous jocks day in and day out? Jordan Woods isn't just surrounded by hot guys, though-she leads them as the captain and quarterback of her high school football team. They all see her as one of the guys and that's just fine. As long as she gets her athletic scholarship to a powerhouse university.

But everything she's ever worked for is threatened when Ty Green moves to her school. Not only is he an amazing QB, but he's also amazingly hot. And for the first time, Jordan's feeling vulnerable. Can she keep her head in the game while her heart's on the line?

Source: GoodReads
Ugh.
What can I say about Catching Jordan, except I was expecting a rather epic storyline with all the cameos these characters were making.  But the book itself was major suckage.
Jordan is one of those girls who'll just glare at anyone for wearing pink.
You know the type.  The type who never watched Legally Blonde and don't realize that you can wear pink and be a feminist and not a hooker.
I mean, really, people.
Or should I say Jordan.
Jordan I know would obviously hate me since I do like pink, dresses, have Chihuahuas, and like watching the occasional daytime serial.  She would probably think I'm a moron.
I'm not.  At least, I don't think I am.  I mean, I did graduated from college with high honors and then went to law school and all so….
Whatever.
The point is, this is one of the most judgmental and annoying characters who acts completely different in her cameos.
And don't even get me started on the romance in this one.  It is shallow at best.  I just love how she basically dropped the guy she was dating just because she figured out that someone else had feelings for her.
Fickled much?
Le sigh.  I'm thinking that this character was abducted by aliens during a book and was given some sort of surgery or probe or something to make her more tolerable.  It's really the only thing that makes sense.
Overall Rating: F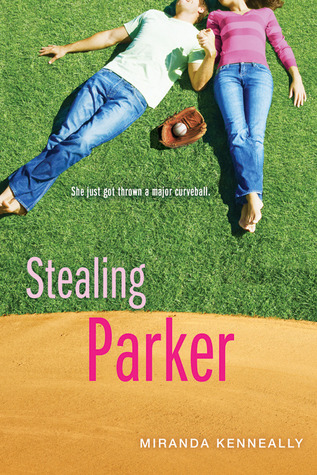 Red-hot author Miranda Kenneally hits one out of the park in this return to Catching Jordan's Hundred Oaks High.

Parker Shelton pretty much has the perfect life. She's on her way to becoming valedictorian at Hundred Oaks High, she's made the all-star softball team, and she has plenty of friends. Then her mother's scandal rocks their small town and suddenly no one will talk to her.

Now Parker wants a new life.

So she quits softball. Drops twenty pounds. And she figures why kiss one guy when she can kiss three? Or four. Why limit herself to high school boys when the majorly cute new baseball coach seems especially flirty?

But how far is too far before she loses herself completely?

Source: GoodReads
I sort of liked Stealing Parker, even though it wasn't the best book and had its fair share of issues.
I'm just going to say it, Parker's church is full of sanctimonious assholes.  But the sad thing is people like this, do exist.  There are a bunch of them living next to my parents' right now.  They really have issues with my dad.  I  think it's because he has a bit of a potty mouth and he's not opposed to talking really loud about the fact that their sanctimonious assholes when they're outside(my father has no censors).
Whatever.
Unlike Jordan, Parker's actually had real issues and wasn't so sanctimonious.  She also didn't dis people who liked to wear pink which was a prop.  She was a bit of a jerk to her mom though.  And I thought it was ridiculous that she ditched softball because she thought it was going to turn her into a lesbian (such a lame reason to quit).
To be fair though, I really don't think that's why she ditched softball.  I think it was more or less to avoid being bullied, but that wasn't exactly how it was framed and the constant worry about regaining those thirty or so pounds she lost made me roll my eyes.
Of course, she might've dissed softball because the endorphins were no longer making her happy.
One of the relationships was just icky here, the other was a little meh and came out of nowhere much like in Catching Jordan only I could buy that couple a bit more since Kennneally spent time building them.
I also liked how Parker came to some hard truths at the end of the book.  While Stealing Parker was far from perfect, it was a far improvement from Catching Jordan.
Overall Rating: B-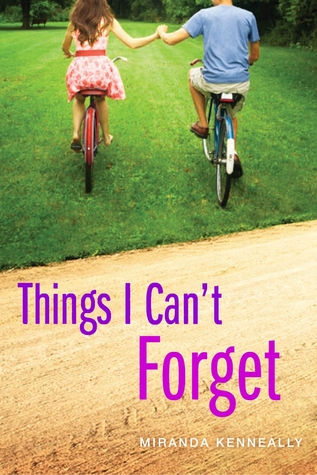 Kate has always been the good girl. Too good, according to some people at school—although they have no idea the guilty secret she carries. But this summer, everything is different…

This summer she's a counselor at Cumberland Creek summer camp, and she wants to put the past behind her. This summer Matt is back as a counselor too. He's the first guy she ever kissed, and he's gone from a geeky songwriter who loved The Hardy Boys to a buff lifeguard who loves to flirt – with her.

Kate used to think the world was black and white, right and wrong. Turns out, life isn't that easy…

Source: GoodReads
I really didn't like Kate, but unlike Chasing Jordan the character made an effort to change throughout the book where I couldn't hate her.
Basically, Kate's whole dilemma resolves an issue that really is none of her damn business.
I mean, seriously, I get that helping your friend making a difficult life decision was difficult but you shouldn't judge her for it.  It's her own damn body, not yours.  Apparently, this logic is very hard for a lot of people to grasp.  Especially certain Republicans. Hence, why groups like Periods for Pence have had to come into existence.
That being said though, Kate does grow on you and sort of grows up while the book progresses.
The love interest in this one is still sort of bland-it seems to be a pattern for this series- but likable enough.  I just felt he was a little too good to be true.  Again, he seemed better characterized as a cameo character in Breathe, Annie, Breathe than he did as a leading man.
But I didn't hate him.
Overall Rating: A C+ while Kate might of grown on me that doesn't mean I still didn't want to slap her silly for being a judgmental bitch and call her to highlight the details on my period because of her previous sanctimonious ways.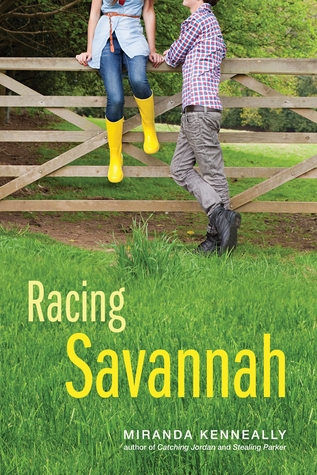 They're from two different worlds.

He lives in the estate house, and she spends most of her time in the stables helping her father train horses. In fact, Savannah has always been much more comfortable around horses than boys. Especially boys like Jack Goodwin—cocky, popular and completely out of her league. She knows the rules: no mixing between the staff and the Goodwin family. But Jack has no such boundaries.

With her dream of becoming a horse jockey, Savannah isn't exactly one to follow the rules either. She's not going to let someone tell her a girl isn't tough enough to race. Sure, it's dangerous. Then again, so is dating Jack…

Source: GoodReads
Man, this one was a bit of a cliche and so bland.  So stinking bland,
I think Kenneally wanted to do a book that featured issues of class more than anything else, but the story it told was one that had been seen so many times before that it added nothing new to me.
That and a very bland hero made the book even blander.
So basically, Savannah and her dad work with horses for rich people and Savannah falls in love with a rich boy.  But will their love survive the bounds of class..
It's a Kennally book so what do you think?
The one nice thing I can say about this one, it's better than Catching Jordan, but is that really a nice comment?  I mean, most contemporaries are better than Catching Jordan unless their that book with that brat who'd rather get a Big Mac than go to Europe.
I am digressing, aren't I?
The point is, Racing Savannah isn't the worst thing I've ever read.  But it's certainly forgettable.
Overall Rating: C
Annie hates running. No matter how far she jogs, she can't escape the guilt that if she hadn't broken up with Kyle, he might still be alive. So to honor his memory, she starts preparing for the marathon he intended to race.

But the training is even more grueling than Annie could have imagined. Despite her coaching, she's at war with her body, her mind—and her heart. With every mile that athletic Jeremiah cheers her on, she grows more conflicted. She wants to run into his arms…and sprint in the opposite direction. For Annie, opening up to love again may be even more of a challenge than crossing the finish line.

Source: GoodReads
The romance in this one was a little better, but not so much because of characterization.  To be honest, Jeremiah was about as bland as his brother.  But because the relationship build and, well, it was nice to see Annie open up and go through the grieving process so maybe that's why I liked the two of them together.
It think Breathe, Annie, Breathe might be one of the better books in this series because it was more introspective.  It was in a lot of ways what I wanted from Catching Parker  and Things I Can Forgetwhere there was a defined character evolution and the character's change is subtle but very apparent from the end.
I also liked how the whole running a marathon sort of symbolized this change.  That was pretty cool.
But while the characterization of Annie was great, the other characterization was a bit meh.
I find this to be a common thing in Kenneally books though so I didn't exactly hate this one or really fault it that much.
Overall Rating: A solid B.