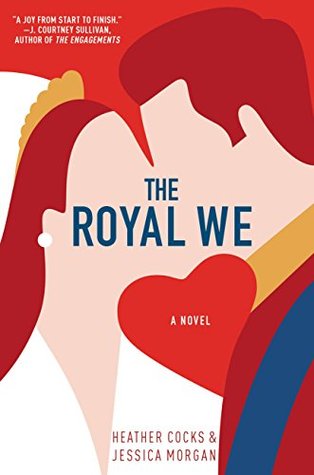 In their first adult novel, authors Heather Cocks and Jessica Morgan take on a story of romance and rivalries inspired by today's most talked-about royal couple: Will and Kate. 

"If I'm Cinderella today, I dread who they'll think I am tomorrow. I guess it depends on what I do next."

American Rebecca Porter was never one for fairy-tales. Her twin sister Lacey was always the romantic, the one who daydreamed of being a princess. But it's adventure-seeking Bex who goes to Oxford and meets dreamy Nick across the hall – and thus Bex who accidentally finds herself in love with the eventual heir to the British throne. Nick is everything she could have imagined, but Prince Nicholas has unimaginable baggage: grasping friends, a thorny family, hysterical tabloids tracking his every move, and a public that expected its future king to marry a native. On the eve of the most talked-about wedding of the century, Bex reflects on what she's sacrificed for love — and exactly whose heart she may yet have to break.

Source: GoodReads
The Royal We is by the Fug Girls who have wrote a couple of hilarious YA books before.  So, of course I had to request the book.  And thank the Netgalley gods I got approved.
While the Royal Wedding might've been so 2011, it's actually a trend in adult books these days.  Okay, not really a trend.  But there's a few books about princesses and I'm willing to eat them up. Most of them don't feature Prince William or a non-balding version of Prince Will like this book does.
The Royal We is a fun book.  Fun is the best way to describe it.  You know what you're getting into-basically a more dramatic version of William and Kate, but it doesn't matter.  You want to read all about how Bex gets to become a princess and read about both of the royal brothers.
Though, it might be just me but Team Freddie all the way.  I liked Nick, but the Freddie character is way more developed and I was sort of hoping that there would be a surprised twist that the queen wouldn't have approved of in the end.
I was wrong.
There was nothing really unpredictable about The Royal We.  Pretty everything could be sum up by the cover of the book.  True, the end took a bit of an unexpected turn but it wasn't that unexpected.
This is by itself purely a fluff read.  The romance between Nick and Bex is fairly realistic.  There is no insta love and there are consequences for action.  It reads like reality, or as real as becoming a princess is going to be.
It's sort of surprising to me that the romance was portrayed in such a realistic way, while other aspects of the book were anything but realistic.
Most notably, the amount of drinking that went on in this book.  It's like they're constantly reading The House of Night series.  If that was the case most of them would be dead or in need of a liver transplant, but the drinking was just viewed as a normal part of these characters lives.
And apparently, they could jet set drink a gallon of Jack and hold down a job in the UK.  Oh, and get a degree from Oxford while drunk.
I wish I could be that productive.
Alas, I can barely write a review when tipsy.
Besides, the amount of unrealistic binge drinking that went on.  There were also a few plot points that I just had to be like come on.
Most likely the whole subplot surrounding Nick's mother.  Really, no one spilled that secret for twenty years?  You'd think Majesty Magazine would've bribed someone.
Besides, those it's so unrealistic my eyeballs are about to fall out moments, I liked this one.  It was a good escape novel.  I really felt like Bex was a bit of the Every American Girl, so you had the sense that this book could happen to you.
The ending was a little rushed, which is a problem I've had with other books by the Fug Girls. It was just abrupt and things came to a screeching halt.  The conflict with the antagonist really wasn't even dealt with.    Maybe they're figuring on doing a companion sequel like they did with their YA book, but it really felt almost undone.
Still enjoyable though.
People who devour Majesty Magazine and got way too involved with the Royal Wedding hoopla, will enjoy The Royal We.  Hence, why I am keeping my pre-order and giving it to my sister as a birthday gift….okay, maybe I'm keeping it for myself.
Overall Rating: A solid B.