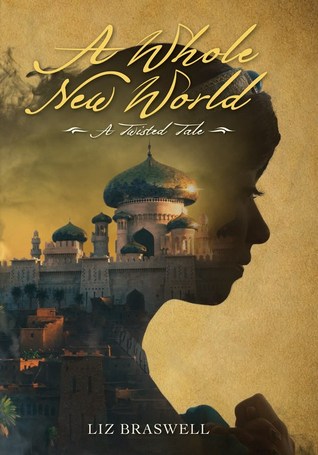 Welcome to a new YA series that reimagines classic Disney stories in surprising new ways. Each book asks the question: What if one key moment from a familiar Disney film was changed? This dark and daring version of Aladdin twists the original story with the question: What if Jafar was the first one to summon the Genie?

When Jafar steals the Genie's lamp, he uses his first two wishes to become sultan and the most powerful sorcerer in the world. Agrabah lives in fear, waiting for his third and final wish.To stop the power-mad ruler, Aladdin and the deposed Princess Jasmine must unite the people of Agrabah in rebellion. But soon their fight for freedom threatens to tear the kingdom apart in a costly civil war.

What happens next? A Street Rat becomes a leader. A princess becomes a revolutionary. And readers will never look at the story of Aladdin in the same way again.

Source: GoodReads
If you ever read fan fiction you'll inevitably come across the practically plagiarized fic where the only thing original about said fan fic from cannon is its disclaimer.
This book is much like that fic.  Okay, it eventually does diverge from cannon but that's when things get really bad.
It's too bad that Agrabah doesn't have an official cocktial because I'd so make myself one now.  I'm thinking for this book I need something pretty strong.  A vodka tonic might do the job.
Or maybe a good sidecar.  Can't go wrong there.  Taste like battery acid, those do.  And that's sort of what I need after this book.  Something to get the bad taste of forced synergy out of my mouth.
Currently synergy is a big thing for Disney.  Look at Once Upon a Time-or how many Disney movies that aren't even fairytales can we stuff into an hour of programming .  I like Once a lot, but sometimes I just roll my eyes at the Mouse doing some very obvious self marketing.
This book was like Once Upon a Time's infusion of Frozen last season.  Good on paper, but epic fail.  A lot of it was that it didn't try to deviate from cannon at all. The first hundred pages are basically a novelization of the Aladdin but with horrible purple prose.
Just look at the opening paragraph:
A High White Moon cast its light on the city below as brightly as the sun was said to shine in northern countries.  White mud-brick buildings gleamed like pebbles form a faraway beach.  The golden onion domes on the capital glittered like a dream against the pale dunes and the dark, starry void. (1)
You could've condensed this into something like this:The moon cast a light on the city below.  It flickered on the white brick buildings and the dome of the capital.
Okay, you could probably eliminate said paragraph in its entirety to be honest.  But I was trying to be nice here.
Screw this book.
It doesn't deserve nice.
It is a blatant attempt to cash in on a popular 90's film and recent broadway show.  However, instead of showing me a whole new world it showed me that Disney could make a whole new turd on once fabulous merchandise.
The cover is wonderful too, really this book does not deserve a cover.
Sigh…
The thing about trying novelize a Disney novel, is that you can't do a blow by blow play of the movie when the character are pretty flat-to be fair to the movie it was only a little over an hour long and it had Robin Williams as the Genie so that helped some of the flatness.
Speaking of the genie, when the book went AU his lines were probably some of the most painful.  It's sad how a bad book is yet another painful reminder of how great the late comedian was.  The lines that Braswell wrote were just bad.  I even tried to think of Robin saying them.  And no, just no.
I didn't stick around to the end.  Mainly because I didn't see a point.  There was no great deviation from the source material till the AU and once it hit the AU…..well, The Return of Jafar was written better.  And we all know that was a direct to video Disney sequel (which Steve Jobs ex-nayed because they were so bad, BTW).
Overall Rating: A  DNF with an F.  Disney you should think about making sure your synergy is of quality.