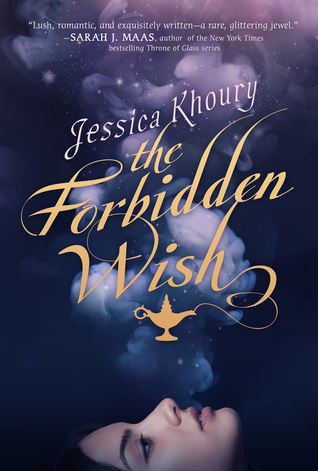 She is the most powerful Jinni of all. He is a boy from the streets. Their love will shake the world… 

When Aladdin discovers Zahra's jinni lamp, Zahra is thrust back into a world she hasn't seen in hundreds of years — a world where magic is forbidden and Zahra's very existence is illegal. She must disguise herself to stay alive, using ancient shape-shifting magic, until her new master has selected his three wishes.

But when the King of the Jinn offers Zahra a chance to be free of her lamp forever, she seizes the opportunity—only to discover she is falling in love with Aladdin. When saving herself means betraying him, Zahra must decide once and for all: is winning her freedom worth losing her heart?

As time unravels and her enemies close in, Zahra finds herself suspended between danger and desire in this dazzling retelling of Aladdin from acclaimed author Jessica Khoury.

Source: GoodReads
There are quite a few jinn books in YA today.  Some better than others.  I was really excited about The Forbidden Wish because I was like finally a jinn book about Aladdin. And was like OMG.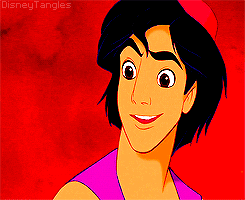 Only, don't expect this book to be an Aladdin retelling.  Sure, there are elements to the original fairytale but they are relatively loose elements.
I think in a way, it benefits the story.  Had it been a straight retelling there were parts of the story that would undoubtedly not work.  As it stands though, I ended up liking The Forbidden Wish a lot, but I didn't love it.
The best thing this book had going for it were its characters both Zahra and Aladdin felt fairly realistic and I enjoyed their dynamic, but I didn't exactly ship them.
Aladdin had a little too much of a Ron Weasley quality about him, and I just don't ship anyone like Ron.  Blame it on being a persistent Slytherin who cannot stand a man child which Aladdin and Ron are.
The thing is, I do not see Zahra liking someone like Aladdin.  Honestly, while I liked their friendship, I just can't see someone like Zahra settling with someone like Aladdin.  She's a queen for fuck's sake and he is an overgrown man child at best.
The thing is that despite the fact that I'm not totally down with the ship, I do like Aladdin and Zahra.  They are good characters.
Just not together.
The plot of the story deviates significantly from the original Aladdin fairytale and while a part of me is glad about this, I want some elements that are nods to the original story save for the name of Aladdin and the fact that he comes in possession of a jinn.
Which is fine.  I did enjoy the story for what it was, but I was thinking there was going to be more of a connection with the original.
There are some nice elements of world building in this one, and I thought the flashbacks were woven in nicely.
In all, it was a nice book there were just some things about it that didn't work for me.  If you do like YA jinn books though.  I do think you should give it a try though.
Overall Rating: A B.