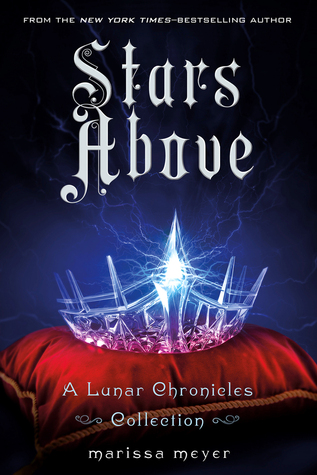 The enchantment continues….

The universe of the Lunar Chronicles holds stories—and secrets—that are wondrous, vicious, and romantic. How did Cinder first arrive in New Beijing? How did the brooding soldier Wolf transform from young man to killer? When did Princess Winter and the palace guard Jacin realize their destinies?

With nine stories—five of which have never before been published—and an exclusive never-before-seen excerpt from Marissa Meyer's upcoming novel, Heartless, about the Queen of Hearts from Alice in Wonderland, Stars Above is essential for fans of the bestselling and beloved Lunar Chronicles.

—
The Little Android: A retelling of Hans Christian Andersen's "The Little Mermaid," set in the world of The Lunar Chronicles.
Glitches: In this prequel to Cinder, we see the results of the plague play out, and the emotional toll it takes on Cinder. Something that may, or may not, be a glitch….
The Queen's Army: In this prequel to Scarlet, we're introduced to the army Queen Levana is building, and one soldier in particular who will do anything to keep from becoming the monster they want him to be.
Carswell's Guide to Being Lucky: Thirteen-year-old Carswell Thorne has big plans involving a Rampion spaceship and a no-return trip out of Los Angeles.
The Keeper: A prequel to the Lunar Chronicles, showing a young Scarlet and how Princess Selene came into the care of Michelle Benoit.
After Sunshine Passes By: In this prequel to Cress, we see how a nine-year-old Cress ended up alone on a satellite, spying on Earth for Luna.
The Princess and the Guard: In this prequel to Winter, we see a game called The Princess
The Mechanic: In this prequel to Cinder, we see Kai and Cinder's first meeting from Kai's perspective.
Something Old, Something New: In this epilogue to Winter, friends gather for the wedding of the century…

Source: GoodReads
I have weird feelings about short story collections for series.   Generally, I end up reading them, but there's always a part of me that feels like I've been suckered into reading them.  The first thing that pops into my head is obvious cash cow.
Of course, there can be exceptions to the rule.
Stars Above sort of fits this exception while it is a collection of mostly stories that had been released as free add ons, there are a few new stories in it that make me feel as if I'm investing my money in something other than a glorified bound up edition of freebies.
By far Stars Above's best story is the epilogue.   Here, it sort of ties up any of the loose ends of Winter and allows the fans to spend a little more time in this universe with these characters and doesn't rehash old events that we've already heard about before.
The sad truth was as much as I enjoyed the epilogue the rest of the stories were a little blah.  Maybe it's in part because I read them before, but I really felt that I only bought this book for the epilogue and to have all these collections in one bound up edition.  It leaves the reader feeling very weird about things.
And rather than reviewing each of these stories like I should be, I find myself wondering if I should've made the purchase or not and if the Lunar Chronicles is becoming the latest cash cow to be milked beyond dry in YA.
To say the least, I'm hoping its not.
Because the Lunar Chronicles is one of my favorite YA series.  However, at this point I am really skeptical because of the release of this short story collection AND a newly announced graphic novel project.
Of course, because I love the series so much I'll buy it but it does have me worried.
The good news for this series though, is that the quality (at least of Stars Above ) does not defect from the quality of the rest of the series.  As annoying as some of these repeat stories were, at least they still maintained the same quality as the earlier books.   So that was a plus.
I guess objectively I have to give Stars Above Us a high rating.  And to be fair, I did like it.  But there is that part of me, that part that has been burnt by so many YA spinoffs that looks at it weary wondering if it is the first "extra" installment of too many installments of the Lunar Chronicles to come.
Overall Rating: B+ some of the stories really worked, but a lot of them were filler.