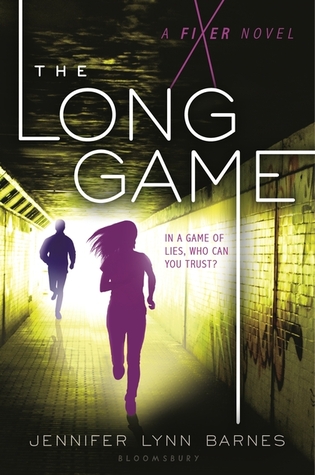 The Kendricks help make the problems of the Washington elite disappear…but some secrets won't stay buried.

For Tess Kendrick, a junior at the elite Hardwicke School in Washington, D.C., fixing runs in the family. But Tess has another legacy, too, one that involves power and the making of political dynasties. When Tess is asked to run a classmate's campaign for student council, she agrees. But when the candidates are children of politicians, even a high school election can involve life-shattering secrets.

Meanwhile, Tess's guardian has also taken on an impossible case, as a terrorist attack calls into doubt who can—and cannot—be trusted on Capitol Hill. Tess knows better than most that power is currency in D.C., but she's about to discover firsthand that power always comes with a price.

Source: GoodReads
The Long Game was the much anticipated sequel to The Fixer which if you haven't PICK UP NOW.
I mean it.
It's rare that I say the second book in a trilogy or series is better than the first but this one is totally be. So much better and I loved the first one.
This book though drops the mic on the first and then some.
There are so many OMG moments in there and—
Obviously, I'm babbling which I rarely do in reviews but I do, do it when I love a book and I loved The Long Game. I don't tend to do spoiler heavy reviews so writing this one is a little hard because so much happened. If you thought The Fixer was interesting and filled with twists, well, it ain't got nothing on The Long Game.
Even more bombshells are dropped, the characters are fleshed out further. And oh, there are so many moments that make you think that Barnes knows how to pull out your heart and squish it into itty bitty pieces.
I ❤ you Jennifer Lynn Barnes.
Seriously, this book has me wanting to revisit your backlist even the more dubious titles that I wasn't so sure about because this one is well done.
Tess really grows and she was already a BAMF in the first book but now, times that infinity. The thing is, she doesn't feel unrealistic. The character is as flawed as they come and you see this with her relationship with Ivy—note, I did wish that Ivy would've been in the book a little bit more but I think having her be a little distant in this book was a little needed.
There were twists in this one that I didn't expect, and I have a feeling when the third book comes out next year I'm going to do a reread of this series because I do think there were some clues in the first book that I didn't pick up on.
One of the most refreshing thing about this series is that it's not romance heavy. While there is some flirtation and maybe a kiss, it's not the primary focus of the book. Tess is not focused on boys and I have to say that is refreshing, especially for a YA book. Instead, the book focuses more on friendships and plots and it really works.
Overall, if you want something that is a bit different from the typical YA contemporary flare. Read this. It is one of my favorites this summer. Barnes has really upped the ante and….oh, this book.
Overall Rating: An A+. Yeah, rarely give them but this one was a joy to read.