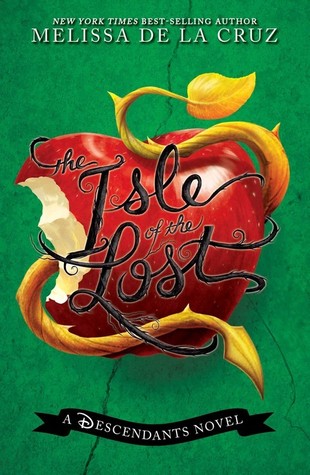 Twenty years ago, all the evil villains were banished from the kingdom of Auradon and made to live in virtual imprisonment on the Isle of the Lost. The island is surrounded by a magical force field that keeps the villains and their descendants safely locked up and away from the mainland. Life on the island is dark and dreary. It is a dirty, decrepit place that's been left to rot and forgotten by the world.

But hidden in the mysterious Forbidden Fortress is a dragon's eye: the key to true darkness and the villains' only hope of escape. Only the cleverest, evilest, nastiest little villain can find it…who will it be?

Maleficent, Mistress of the Dark: As the self-proclaimed ruler of the isle, Maleficent has no tolerance for anything less than pure evil. She has little time for her subjects, who have still not mastered life without magic. Her only concern is getting off the Isle of the Lost.

Mal: At sixteen, Maleficent's daughter is the most talented student at Dragon Hall, best known for her evil schemes. And when she hears about the dragon's eye, Mal thinks this could be her chance to prove herself as the cruelest of them all.

Evie: Having been castle-schooled for years, Evil Queen's daughter, Evie, doesn't know the ins and outs of Dragon Hall. But she's a quick study, especially after she falls for one too many of Mal's little tricks.

Jay: As the son of Jafar, Jay is a boy of many talents: stealing and lying to name a few. Jay and Mal have been frenemies forever and he's not about to miss out on the hunt for the dragon's eye.

Carlos: Cruella de Vil's son may not be bravest, but he's certainly clever. Carlos's inventions may be the missing piece in locating the dragon's eye and ending the banishment for good.

Mal soon learns from her mother that the dragon's eye is cursed and whoever retrieves it will be knocked into a deep sleep for a thousand years. But Mal has a plan to capture it. She'll just need a little help from her "friends." In their quest for the dragon's eye, these kids begin to realize that just because you come from an evil family tree, being good ain't so bad.

Source: GoodReads
Once upon a time, I DNF'd a book after fifty pages.  I had said book in my shelves for month dreading at the possible cringing that would happen when I would get the guts to read it and when I did.  Surprise, surprise, I cringed and cringed  and ended up throwing it in the storage box when I was done.  Rolling my eyes and saying…
But on the other hand, yay, more space in my bookshelf.
When I preordered this book way back at the end of 2014 I had no idea it was a tie in to a Disney Chanel movie or middle grade novel.  If I had known one of these two things I probably wouldn't have even bothered.
Full disclosure made, I haven't watched and don't really have any intention of watching the Disney movie to this mess.  I figure it's more synergy pandering which just will make my eyes roll to the point where I'll get a migraine.
Please, no thanks.
Sometimes synergy can be okay when it's done in a smart way.  Like the early seasons of Once Upon a Time, the way they weaved the fairytales in and out of their fairytales were cleaver at least until season 4 when there was blatant Frozen pandering.  But even that wasn't as bad as this.
And at least Once isn't outright sequel-ing DIsney cannon and getting details wrong like Melissa de la Cruz did.
Really, Melissa, would it have killed you to Disney Wiki Sleeping Beauty to learn that Aurora pricked her finger on her 16th not 18th birthday?
Then I forget this is the same woman that contradicted herself about five thousand times in her most popular series.
In addition to blatant product placement and poor continuity, I could not stand this book because it seemed to talk down to its audience.  Its a common problem with a lot of middle grade books out there, but some authors avoid this problem like Meg Cabot whose Princess Diaries series is actually charming.
de la Cruz doesn't avoid the problem and I think part of the issue with this book for me is that the characters seem to be technically more YA age than middle grade.  So the talking down too really became grating.
In the end, I didn't try to stomach this.  I just couldn't deal with all the cringing.  I can feel okay with throwing this into my storage/giveaway box now.  I tried it.  Unfortunately, it was about as squirm inducing as I thought it was.  Leave the synergy, Disney to Once Upon a Time, even though that season finale was painful at least the show on a whole tries (or used to) be creative with their product placement.
Overall Rating: A DNF.  I don't think it was a subjective DNF either.  The writing was really painful.  I am really going to have to review the Blue Bloods series at some point to see if I have grown as a reader because this book in general made me really question de la Cruz's writing skills.