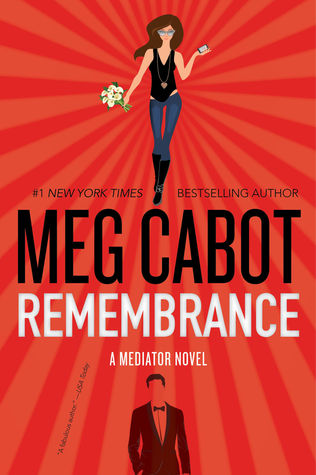 In REMEMBRANCE, the seventh installment of the Mediator series, all Susannah Simon wants is to make a good impression at her first job since graduating from college (and becoming engaged to Dr. Jesse de Silva).

But when she stumbles across an ancient murder, old ghosts—and ex-boyfriends—aren't all that come back to haunt her.

REMEMBRANCE will be the first ever adult installment of the Mediator, published by William Morrow, the adult division of HarperCollins, the company that brought you the YA books in the series.

Source: GoodReads
The Mediator series is sort of my gold standard series for YA.  It has a strong feminist main character who's bad ass while dressed (tastefully) in Kate Spade and it has one of the best heroes in YA to date.  Plus, a love triangle that doesn't want me to gouge my eyes out.  How can one not love the Mediator series?
Yeah, thought so.
To say the least, I was excited but a bit weary when I heard that Meg Cabot was publishing a seventh book.  The sixth book, after all, ended on such a wonderful note.  I was really scary what would happen after that.  I mean, how can you top Suze doing a Marty McFly and saving Jesse's life.
Well, you really can't.  But never the less, Remembrance was a delightful nostalgic read.
It does have a few quirks, but those quirks were very easy to overlook when reading the book as a whole.
First and foremost, Suze's voice is still as authentic as ever.  She's still sassy, not afraid to kick ass, but realistically matured.  I really enjoy that the essence of her character was kept.  One of my problems with Missing You  (the adult-ish sequel to Meg's 1800-Where-R-U seires was I thought Jess lost a bit of her punch).  Suze, not so much.  There were some choices she made that had me raising my eyebrows a bit-for spoiler purposes I won't go into them, BUT as a legal professional who worked in family law I was just like really Suze-but it fit with the character enough.
Jesse is swoon worthy as ever, but the character is a little more complex in this installment which is a good thing and very understandable since he's alive now and dealing with the aftermath of being a NCDP (see, Suze I'm using your term-it's admitedly catchy).  I liked these added layers.  Also, other characters are further developed such as Suze's stepbrothers.  I didn't see some of the twists involving their lives coming (i.e. David), but it was refreshing.
If you're a huge Paul Slater fan, I don't know how you're going to feel about how Paul turned out as an adult.  Personally, I have a love hate relationship with this character.  When I read or wrote fan fic it was usually Paul/Suze, but that hardly means I wanted him to end up with her in cannon or find the character to be redeemable in cannon.  He's admittedly slimy, but there's something about him that makes for an interesting character to explore.  And like it or not, Juze shipper or not, you have to admit that Paul and Suze share some great banter.
The banter is still there, though admittedly Paul is dumbed down a bit in this installment.  Where in the previous installments he is decisive in his actions, here he isn't on his feet as much in the previous novels.  He's still an antagonist, but not an as worthy one as in past installments.  To be honest, if anything he comes off as borderline pathetic.  And I was more than a little disgusted with him by the end of this book.  Does this mean, I'll stop reading Pauze fan fics (hardly), but it makes my cannon ship stronger.
It's sort of sad though, that Paul has destroyed his brain cells.  I like him better when he's smart evil than quasi dumb evil.  Though, he and Suze still did share some great banter.
The ghost mystery was okay.  Luisa is not my favorite or my least favorite ghost in the series.   I'd say the ghost mystery is comparable to either book two or three.  Better than books one or five, but hardly the zenith of the ghost mystery in book four or the time traveling adventure in book six.  Though, Suze did kick ass.
The wedding scenes and other fluff scenes were also well done.  But really, Jesse.  Really.  I feel sorry for Suze having to…okay, not going to say it for spoilers.  But come on!
Overall, if you're a fan of The Mediator you should pick this book up.  It's a nice nostalgia trip down memory lane which is pretty true to the characters.  Unless, you're a huge Paul fangirl I think you'll enjoy this one.
Overall Rating: A solid A.
Remembrance will be released on February 2, 2016.