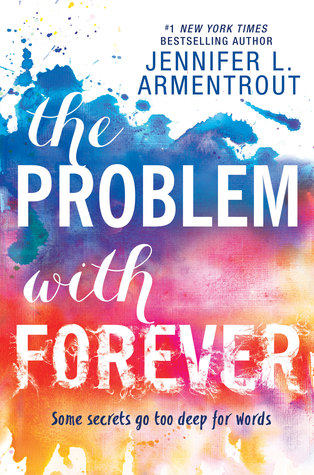 For some people, silence is a weapon. For Mallory "Mouse" Dodge, it's a shield. Growing up, she learned that the best way to survive was to say nothing. And even though it's been four years since her nightmare ended, she's beginning to worry that the fear that holds her back will last a lifetime.

Now, after years of homeschooling with loving adoptive parents, Mallory must face a new milestone—spending her senior year at public high school. But of all the terrifying and exhilarating scenarios she's imagined, there's one she never dreamed of—that she'd run into Rider Stark, the friend and protector she hasn't seen since childhood, on her very first day.

It doesn't take long for Mallory to realize that the connection she shared with Rider never really faded. Yet the deeper their bond grows, the more it becomes apparent that she's not the only one grappling with the lingering scars from the past. And as she watches Rider's life spiral out of control, Mallory faces a choice between staying silent and speaking out—for the people she loves, the life she wants, and the truths that need to be heard.

Source: GoodReads
Man, if I didn't know this book was by Jennifer L Armentrout I would've thought it was by Katy McGarry.
Like McGarry books this one is overly romantic and dramatic, but lacks the duel narrative that hers usually has.
All things considered it is a really solid contemporary.  The storyline was engaging and focused more on character development than plot.  Sure, there were a few over dramatic things that happened during the course of the story that made me want to gouge my eyes out a bit, but overall it was enjoyable.
I really enjoyed the character Mallory.  I feel like she is very relatable.  She's at that age where a lot of people don't know what they want in life but at the same time sort of do but haven't came to those conclusions yet.  I thought Armentrout did that well.  I also enjoyed the romance for the most part.  Though, I could've lived without the Paige subplot.
That was a little too much for my taste and a bad throwback to YA of the mid 2000's where the Mean Girl trope was alive and well.  And really, Paige wasn't a necessity as was a lot of the external plot that went on that lead to the melodramatic event in the middle of the book that I found a tad bit unbelievable-though, I get events like this happen.  I think the thing that bothered me so much about this subplot was if you took it out of the story it would've been just as strong maybe stronger if you got annoyed with the melodrama.
The actual character development that went on with this particular book was pretty strong.  Mallory had a lot of shit to deal with and dealt with it.  I also liked how the romance wasn't the focal point of the book.  Other relationships such as those with family and friends played an important role in this book, including self development.
In all this was a very different Jennifer L Armentrout book for me to read.  While there is still that ridiculous readable quality about it, but rather than being what I deem fast food reading (a book that's not the best for you good) there's something about this book that is more mature than those other books.
I also liked that this book incorporated diversity and not in a tokenism sort of way.  There are several characters who come from a non-WASP background were not generalized.
While not perfect, this is a good book.
Overall Rating: B+